Hi!
Great news.
Finally, branding is available to the public after some thorough live testing. Thanks to everyone who agreed to help us and take a look before the final release!
So, be sure to check your account for the new tab – Integrate/Customize. Why Integrate? Because now (besides branding) you can easily build SkyFex into your web site.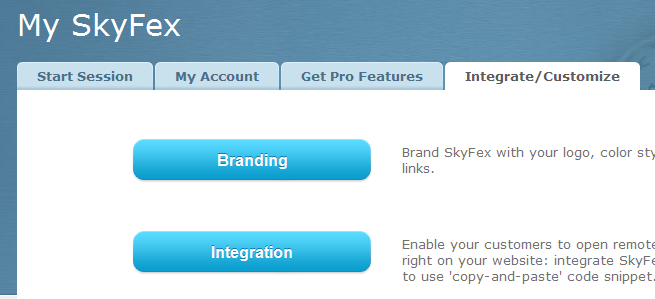 Both features work in a straightforward way. So, brand it your way and insert it into your site:
Add your own logo and color.
Add custom links instead of default SkyFex links. Live preview is available to test everything right away.
Generate a code snippet for inserting SkyFex into your site. Be sure to set the size of the viewport at your convenience.
We hope the new features bring SkyFex closer to a remote desktop solution of your dreams. If you have more ideas how we can improve, let us know! We brought branding in because so many subscribers wanted it.
We welcome any feedback (good or bad :)) in the blog, via e-mail or via online forms.
Best regards,
SkyFex Team.